How to Stop Negative Thinking in 7 Simple Steps
Use these anti-negativity thinking tips to get your mental house in order
I thought he'd be pleased, I really did. But negative thinking can darken a cloudless day, bring down an uplifting event, and dampen a simple pleasure.
He'd won a lot of money and had been pleased...for a while. But now all Keith could say was, "Yeah, but now I have the added problem of whether to tell my friends or not. If I don't and they find out, it's bad. And if I do, they'll all expect me to share some with them!"
I suggested it wasn't a 'problem' but merely a consideration; that, all in all, he might as well be over the moon.
"Yeah, but I'm torn between paying off the mortgage and buying a Porsche."
Resisting the urge to throttle him (or ask for money), I got thinking about the true nature of negativity.
As someone once said: "Life's problems reveal who we really are!" and that's true; negative thinkers can "yeah, but" when things are going great. On the other hand, the more resilient of positive thinkers can remain upbeat when times are tough.
I sat and looked at Keith. A young man with intelligence (which was not best serving him), looks, and now money, and still he saw the old water jar as half empty. I've known people close to death with more zest and positivity.
Negative thinking can become a habit of mind, picked up from others. Or it can be little more than a failure of courage; because sometimes it actually takes guts to remain positive through setbacks. (Not that I considered winning money a 'setback'.)
I looked at him, thinking; he looked at me, wondering what I was looking at. Actually, I suppose negative thinking seems to have its advantages.
The devil you know
Thinking 'the worst', expecting failure and betrayal, seeing downsides where others don't, even seeing positives as negatives - all convey a kind of insurance policy. "If I expect the worst, then I won't be disappointed when it happens."
Another 'advantage' to negative thinking is the 'I told you so' syndrome. For some, it can feel more important to be proved right in their negative predictions than to have good things happen (and therefore be proved 'wrong').
Before I get too positive about negativity, here's a thought: The habit of thinking negatively doesn't just predict how likely someone is to become depressed, but also predicts how likely they are to suffer all kinds of other illnesses later on in life as well. (1) I'm not suggesting that negative thoughts alone produce illness, but they don't help.
We're going to look at what you can do to stop negative thinking. But first, let's examine a common fundamental mistake the pessimism-prone tend to make.
The most common negative thinking mistake
Keith was proud to describe himself as a 'realist'. Of course, anyone who strongly holds a belief think they are being 'realistic' in holding it, whether it involves green men from Mars or honest politicians.
The 'more realistic' proclamation is a favourite of cynics everywhere. And in a way they are right. But only because thinking negatively causes us not to try - or if we do try, to give up sooner - so the negativity itself influences results. Self-fulfilling prophecies really do happen. Research has even found that what we believe about our health can have more bearing on how long we live than our actual health. (2)
So, negative thoughts can plague us even when things seem to be going well: "It's too good to last!" My first tip has to do with how negative thinking distorts perception.
1) Stop thinking in extremes
Most of life isn't black or white, completely this or that, all or nothing. But negative thinking tends to view bad stuff in the extreme. For example:
Rather than not doing as well as I'd like on my test, I'm going to "fail completely!"
Instead of my business venture taking a while to get going, it's going to "crash and burn, leaving me ruined!"
Rather than just feeling a few nerves during my speech, I'm going to "die out there; they're all going to hate me!"
All or nothing thinking misses out the subtle shades in life. It makes us see the future in terms of dramatic disasters, failures, and catastrophes. Sure, disasters occasionally happen, but - contrary to the shrill pronouncements from newsstands - most of life consists of shades of grey.
The first step to overcoming negative thinking isn't to 'just be positive' all of a sudden, but to look for shades of grey. Say you've been worrying about a relationship. Rather than thinking: "It's going to be a disaster, I just know it is" or even "It's going to be perfect!", how about: "I expect there will be great bits, good bits, and not so good bits, like any relationship."
Write down what you have been thinking negatively about. Write the extreme negative statement that comes to mind. Now write three 'middle of the road' possibilities - not so exciting (or terrifying), but a more realistic take on what is actually more likely to happen. Giving your brain more options will reduce emotionality and allow you to think more clearly.
2) Stop over-generalizing the negative
Ask yourself: "If something bad happens, do I over-generalize it? Do I view it as applying to everything and being permanent rather than containing it to one place and time?"
For example, if someone turns you down for a date, do you spread the negativity beyond that person, time, and place by telling yourself: "Nothing ever works out for me!"? If you fail a test do you say to yourself, "Well, I failed that test; I'm not happy about it, but I'll try harder next time."? Or do you over-generalize it by telling yourself you're "stupid" or "can't learn anything!"?
And while we're on the subject...
3) Don't minimize the positive
Negative thinking stops people seeing the positive when it does happen. It's as if there's a screen filtering out positives and just letting in stuff that confirms the 'negative bias'. Magnifying setbacks and minimizing successes leads to de-motivation and misery.
Get into the habit of seeing setbacks as temporary and specific rather than as permanent and pervasive. We all tend to find what we look for. If you find yourself thinking negative thoughts about a person, for instance, get into the habit of balancing it out with one positive thought about them: "He's so insincere... Mind you, to be fair, he was helpful with that project...and he can be very funny..." The positive is there but you have to look for it.
4) Stop mindreading
Thinking negatively stops us relaxing with uncertainty. This can lead to 'mindreading'. "She hasn't texted me back; she doesn't like me!" or "He only said that to make me feel better, he doesn't really think that!"
Having to assign a meaning to something before you have real evidence makes you more likely to believe what you imagine without question. Holding off assigning (made up) meaning to an ambiguous situation is a key part of overcoming negative thinking.
When you become more positive (or just more comfortably neutral), you'll be doing more of: "I don't know why she hasn't texted me back yet..." You'll also be able to consider all possible reasons you can think of, not just the negative ones.
Here are a few to help you out:
She's forgotten her phone.
The phone's battery is dead.
She's run out of phone credits.
She's in a lecture.
She's on a plane.
She's out of range.
You get the drift. None of these are attributable to you and your likeability and all are as plausible as any other explanation.
5) Stop taking all the responsibility
If I put it down to 'other people' or 'luck' when something is good or successful and don't take any credit myself (even if the success was largely down to me), then I am externalizing the positive. Or I might externalize the quality of goodness from my friend when he does something kind by telling myself: "He only did that to win favours!" If you (or someone else) do something good or well, just accept it.
Negative thinkers also tend to do the opposite. They will internalize - that is, blame themselves - for all kinds of negatives that have little or nothing at all to do with them. Look at how much control and influence you really have over things that you tend to think negatively about.
6) Stop forcing your own rules on life
"If he loved me, he wouldn't do that."
"If I was a good mother, I wouldn't lose my temper."
"People shouldn't act like that."
"If I can't do this, then I must be really stupid!"
"He was late - he must be seeing someone else!"
"Saying that means he doesn't respect me!"
"My medical tests haven't come back and that means it's bad news!"
Sometimes known as 'must-erbation', making up tight rules as to how reality must or should be is a sure-fire way of feeling let down by yourself and others.
This isn't to say that we shouldn't expect anything from ourselves and others, but rather that the rules need not be unreasonably inflexible.
If you feel disappointed or let down, then you must have been expecting something else. Examine what it was and ask yourself: "Was my expectation too narrow?"
7) Stop making stuff up and believing it
Imagination is a wonderful thing, but not if you use it to scare yourself. Sometimes we need to be able to 'suspend the functioning of the imagination' (to quote Ernest Hemingway, no less). Looking at an upcoming event in your mind and negatively hypnotizing yourself by vividly imagining the worst is like using a hammer to paint a picture. Your imagination is there as a tool to be used constructively.By practicing imagining things going well, making it more likely, you'll be calmer in the situation and it will be a much better use of your time.
If you still have wildly negative thoughts, then at least 'dilute' them by imagining a positive outcome as well as the negative one. If you imagine forgetting what to say in an upcoming presentation, immediately disregard that and instead imagine it going well.
Stopping negative thinking takes time and effort, and to an extent it's a job that's never done. Practicing using these seven tips will serve you well for the rest of your life – isn't it worth spending a little time with them now?
Despite his negativity, Keith (a friend of mine) recognizes his own negative leanings and actually said he found these tips useful.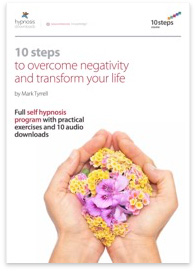 Negative patterns are drilled into us by people and circumstances throughout our lives. Let the gentle power of our new hypnosis course ease your unconscious mind into a more positive, happier way of seeing the world....
References
Howard Burton, et al. (1986). The relationship of pessimism to survival in chronic renal failure. Psychosomatic Medicine.
See: Self-perceptions of health: A prospective analysis of mortality, control, and health. VH Menec, JG Chipperfield, and RP Perry.