Testimonials for the Stop Thinking About Someone Hypnosis Session
Read some great feedback from our customers
"I'm gaining traction in loving myself more too"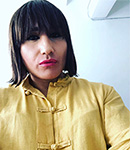 I wanted to reach out and say thank you because your Unrequited Love and Stop Thinking about Someone products took me from a distressed emotional wreck after reconnecting with an old Army friend of mine who I developed a romantic attachment to. It took some work (combined with diet, exercise, and meditation), but the programs made it possible for me to feel comfortable to continue the friendship with the person. These lessons have helped me far beyond that specific situation.
And just to let you know: when I heard the reference to The Odyssey in the audio, I nearly died because my birth name is Ulysses. My jaw dropped and let me tell you, this helped me find the wherewithal to work toward saving a valuable one-in-a-lifetime friendship with someone I served with and found that I'm gaining traction in loving myself more too. Thank you so much!!!
This story came from Eddie who is from New York, USA.
* Results may vary from person to person. This is why we provide a no-questions asked 90-day guarantee to ensure you feel comfortable trying our downloads out. We believe they are the best available, and hope you will too.