Someone is infatuated with me and stares at me all the time.

Asked by Anonymous at 06:15 on March 10th, 2018
I feel I am being harrassed by a man. He makes inappropriate comments and stares at me all the time in a social setting. It makes me feel unsafe and threatened and it is a trigger for past violent experiences with an ex-husband. I don't want to leave the social group but want to feel safe, unthreatened, and strong in this setting.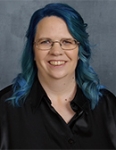 Hi there,
Thank you for your question.
I hope you find one or more of the downloads below helpful.
Best wishes,
Rebekah
Uncommon Care Team