Fall Asleep Fast With the Sleep Well App
Includes our most popular sleep session free, with the option to upgrade to 10 more sessions.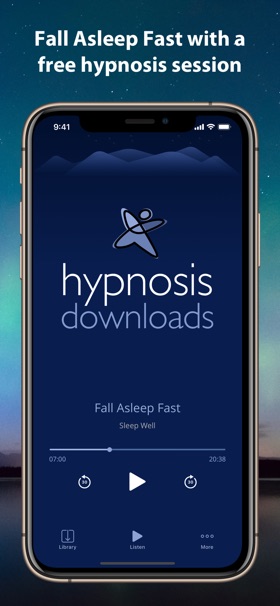 Get the Sleep Well app for iOS (iPhone or iPad) here
Do you often lie awake even though you're dog tired?
Instead of switching off, does your brain go into overdrive when your head hits the pillow?
The harder you try to fall asleep, the worse insomnia gets. It feels like a catch-22 that you'll never escape from.
But help is at hand...
We challenge you to stay awake when listening to the free session in Sleep Well - 'Fall Asleep Fast' - this is the most popular of all our sleep and insomnia downloads.
With over 20 years experience, and more than 1/2 million sessions sold, Uncommon Knowledge knows how to set your mind at rest and gently lull you to sleep.
The app is super-simple, you just install it and hit play on the free session. You can use that for as long as you like, but if you want more variety at any time you can upgrade to the monthly paid option and access 10 more sleep sessions, plus two bonus relaxation tracks.
Our most popular sleep hypnosis session 'Fall Asleep Fast' is free inside the Sleep Well Hypnosis app to improve your sleep right away. Then, if you like what you hear, you can unlock the other sleep hypnosis sessions with the monthly payment option. Goodbye insomnia, hello sleep!
From Uncommon Knowledge, delivering hypnosis since 1998.
Hypnosis Sessions included in Sleep Well:
Free:
Paid:
Cure Insomnia
Drift Off To Sleep
Early Bed
Night Worry
Sleep and Dream
Sleep Like a Child
Go Back to Sleep
Bounce Out Of Bed
Sleep Away from Home
Waking Up in the Night
Bonus sessions:
10 Min Power Nap
Body Scan Relaxation Technique