Free eBook: How to be happier with the one you love
Key psychological tools for building better relationships in an imperfect world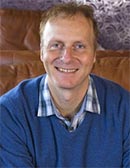 Hi, I'm Mark Tyrrell of Hypnosis Downloads, and I am the author of '10 Steps to Overcoming Insecurity in Relationships'.
Life is uncertain, and the people in our lives unpredictable. We all want to be happy, and we want to be happy with the one we love. But anxiety can creep in, and our worries then affect our behaviour, and the next thing we know, the one we love has departed for pastures new…
But you can become wiser and stronger emotionally, and give yourself a better chance of happier, healthier relationships in the future, whatever has happened in the past.
We've pulled together the latest research on healthy, stable relationships and matched it with cutting-edge hypnosis sessions to create the perfect way to equip yourself to build, enjoy and sustain good relationships. How to be happier with the one you love contains extracts from '10 steps to overcoming insecurity in relationships' and shows that it is possible for you to begin to deal with your relationships in more emotionally intelligent ways.
I hope this free excerpt from the course will show you just why you can look forward to being able to relax and enjoy yourself more in the relationship that matters most. You can read more about the full course here.
All the best

Mark Tyrrell
Course Author and Co-Founder
Hypnosis Downloads