Reframing Techniques training CD - 'Powerful Reframes'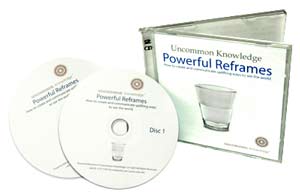 Powerful Reframes Double CD
Running Time: 1hr 37 mins
Price: $ 60.00
Shipping: FREE
Enhance your reframing skills with our comprehensive reframing training program - 'Powerful Reframes'
Whether you are a counselor, hypnotherapist, CBT practitioner or another helping professional, you hear negative statements from your clients on a daily basis. And such beliefs can be oh-so-tricky to shift. That is why learning to reframe negative statements is such a key skill for us all.
How to change meaning without arguing with your client
We all know the power of a well-communicated, fitting and timely reframe - it can literally dissolve negative self statements in an instant. But how easily it can go wrong. We have all found ourselves 'arguing' with clients, seen puzzled looks on their faces, and been overcome with floods of negative self statements.
Until now, learning reframing techniques has been hit-or-miss
As therapist trainers, we have spent over 10 years developing ways to teach our counseling and therapy students how to create and communicate powerful reframes. These approaches include how to ensure the reframe fits the bill, techniques for creating reframes, and most importantly, when and how to deliver a reframe so it is most likely to 'take root'.
More of a 'reframing course' than an audio book
Because reframing is a practical skill, we knew we had to make Powerful Reframes an interactive product. During this double CD audio program you will take part in exercises that will 'embed' your new knowledge of conversational reframing techniques and approaches.
Within the double CD Powerful Reframes pack you will discover:
6 client case studies showing reframing techniques in action
Demonstrations from our therapist actors
8 practical exercise tracks to rehearse your new techniques
8 quick summary tracks making it easy to refresh your memory about the main points
A step-by-step technique to create your own reframes
Creating reframes during therapy sessions is the skill we're aiming to develop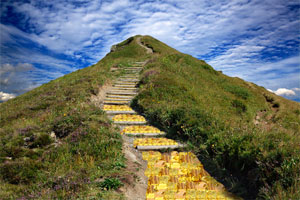 Help your clients reframe negative thoughts
into positive ones
We've all thought after a session of counseling "oh heck, now why didn't I think of that earlier!". And indeed, the skill of creating reframes quickly is a tricky one to learn. That's why we have included practical exercise tracks, and a step-by-step technique for creating your own reframes to help you quickly develop unconscious competence in conversational reframing.
After using Powerful Reframes and doing the exercises, you'll find reframing easier in your very next client session.
How to use metaphor, analogy and stories to reframe
Using metaphors to reframe can seem more like magic than a practical skill, but there is an easy way: use what your client says against their problem. Powerful Reframes includes a section on using metaphors in reframing that will help you make your communication more effective, including the following sections:
How to use analogy and metaphor to improve communication and deliver life-changing reframes
Why a client's own metaphors are the secret door to their unconscious (and how you can slip positive reframes through this door)
A simple technique for constructing reframing metaphors
A classic tale to help people put the past behind them
A reassuring, anxiety-reducing reframe metaphor for panic attacks
Reframing using cognitive therapy techniques
Cognitive therapy uses 'explanatory styles' to break down the way a person sees the world. This simple but useful model can also be used to create powerful reframes and the booklet accompanying the pack explains how to do this. Whether you already know CBT techniques or not, the reframing explanations section will give you a solid structure to hang your reframes on.
The CBT explanatory styles model is also very useful in treating depression and you will learn precisely how to apply this to enable depressed clients to gain more flexibility in their thinking styles.
Plus many other reframing and therapy techniques to help you help others:
Why rapport is an essential pre-requisite for therapeutic reframing and how to build deep rapport quickly
How to avoid breaking rapport when delivering reframes
Why high emotion is such a barrier to therapeutic progress and how to lower it
How to normalize emotional problems without belittling them
How reframing can 'explode' a depressive perspective and make it impossible for a client to take that view again
Why emotional states are tied to all-or-nothing thinking and how to create reframes that re-introduce flexible thinking style and so reduce emotionality
How to cast doubt on a client's self-damning beliefs without saying a word
How to create 'unarguable' reframes
How setting tasks can reframe powerfully and permanently
Using precision questioning to reframe
How to subtly manipulate language to create effective reframes
How to reframe typical black-and-white statements such as "I'm a total failure"
The power of humor in therapy and how best to use it
How to spot disempowering labels and how to create hope by de-labeling and re-labeling
The HOPE technique to teach your clients to reframe for themselves
A visualisation technique for reducing the emotion associated with memories
We know how tricky it can be to improve your reframing skills, especially with all the other pressures of running a busy practice. This is why we have spent so much time developing Powerful Reframes.
Once you have used this double CD pack, you will feel empowered against the tide of negative statements that some clients can bring to a session. Your skill with reframing techniques will have expanded greatly. We think you'll enjoy your job more, and your clients will enjoy their sessions more too. You can order using the button below and we'll send you Powerful Reframes within 24 working hours.
Powerful Reframes is now available as part of the Conversational Reframing course.